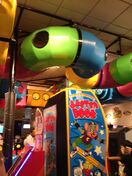 The Chuck E. Cheese's Sketch Book is a photo booth attraction found at many Chuck E. Cheese's restaurants.
The Chuck E. Cheese's Sketch Book purports to allow customers to have their picture taken and re-sketched out by Chuck E. himself, before being printed out for the user to keep.
The Sketch Book mainly works in a fashion typical for most photo booths. Users step into the open booth and insert a token, then select a portrait or group photo layout for their printout. After the user's picture is taken (with a 15-second delay between choosing photo layout and the picture being taken), Chuck E. "sketches" out a copy of the image and the machine prints out the completed image, complete with Chuck E.'s own signature, the date of the photo being taken, and a special frame on the printout. On occasion, Chuck E. may make deliberate "mistakes" and correct them, and say positive things about the image he's drawing out.
The first batch of Sketch Book booths were made - presumably in the very early 2000s - by long-time CEC partner ICE, which made a number of CEC Entertainment's games in the past, as well as many others for other arcade joints. The actual software that operated the booths ran on Red Hat, a popular Linux distribution at the time. As with all other period attractions that had voice lines from Chuck E., Duncan Brannan voiced the titular mouse.
Locations
Edit
The Sketch Book is largely in use solely at the Chuck E. Cheese's family fun center chain, however some other businesses outside of actual locations also have Sketch Book booths, some either coming from affiliation (direct or indirect) with CEC-ABS, or under their arrangement.
Community content is available under
CC-BY-SA
unless otherwise noted.